I have a new Lenovo 300 with Windows 10 pre-installed. Yesterday I was attempting to create a dual-boot with Win 7 using EasyBCD. Long story short, I couldn't find a work around and eventually because I made some bad choices, I received an error message on startup "/BCD" and couldn't boot into anything.
So, in BIOS I turned off secure boot, changed from UEFI into legacy mode, and used the Easy Recovery bootable CD to "fix" my problem.
Thankfully, this worked and allowed me to boot into Win 10 once again.
Unfortunately, when I then changed the boot mode back to UEFI and turned secure boot back on, I could no longer boot my computer.
The boot menu had no option to boot from an HDD or CD/DVD or USB, just one option with PXE in the title.
Any ideas on how I might be able to fix this problem and once again be able to boot into UEFI?
Any advice would be much appreciated.
It also seems that using the ERE recovery disc had made changes to my partitions and there is no longer a "Recovery" partition put there by lenovo, so I can't restore my computer to factory default.
As you can see, there's no longer a bootable drive under EFI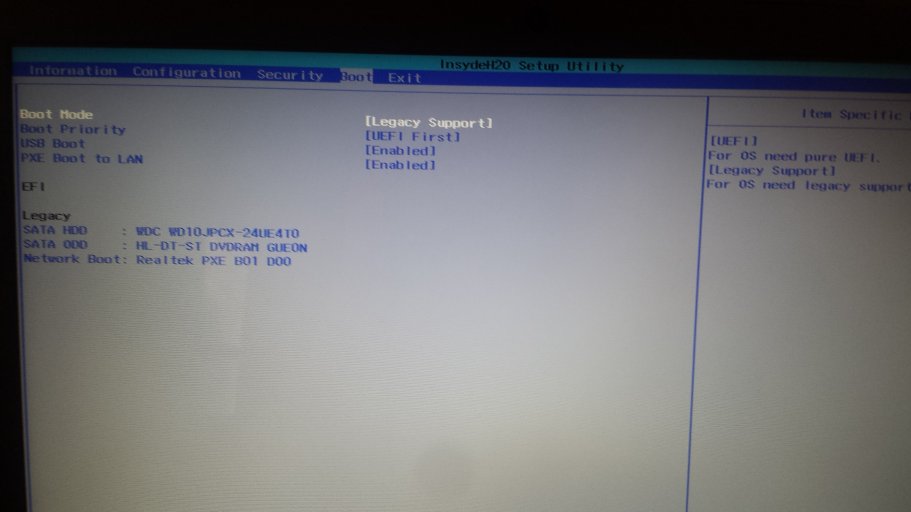 Same thing if I change boot mode to UEFI
Last edited by a moderator: