Hello.
I've downloaded and installed EasyBCD 2.1. It is not launched after starting and error message is displayed.
Message: "Configuration system failed to initialize" (see screenshot below and attached crash log in file "ebcd_saencryptedreport.zip").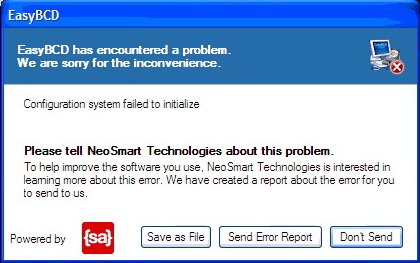 For more information: Windows XP and Windows Vista are installed on my computer. Some time ago EasyBCD worked correctly. But now it is not launched when i try to start it from WinXP (Vista is not loading now).
All versions of Microsoft .NET framework are installed.
Also, EasyBCD 1.7.2 show more detailed exception text, I attached it in file "ebcd1.7.2_exception_text.txt".
Best regards, I hope for help.