Hello everyone, I have been googling for an answer to this and it is really bothering me now, so I thought I would ask instead.
I have Windows 7, and I recently installed Windows XP to it's own partition. Setup was fine and after the install XP worked gloriously. During XP I set the MBR to how it is in this screenshot.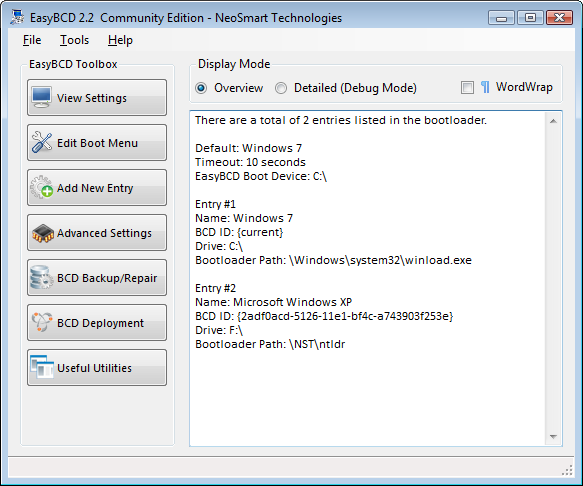 After some googling and egg thrown on my face, I discovered that of course, as always with XP, now it will not boot. It complains about "NST/ntldr" or along those lines and an error code 0x000..0f. After more googling I discovered that this NST folder is on my C Drive, not my XP install drive as mentioned in a different guide. So I removed the boot option and added it with auto configure, wrote to the MBR, rebooted and it still didn't work. Turns out when I re-opened EasyBCD, it never changed at all! *Dun dun dun!*
Does anyone know what could cause this? If I point the XP option to any other drive and reboot it will keep that configuration, just not on the C: drive. Any help will be appreciated, I'm sick of using the Windows 7 restore disk just to go around in circles.
the XP partition is definitely functional, it just seems the boot option refuses to be corrected... Story of my life. I'm off to college, I'll keep an eye on this thread and I have Teamviewer in case anything is needed.
Last edited: