Fix your PC now. Guaranteed.
Say goodbye to the blue screens because we've created the ultimate system recovery CD, painstakingly engineered to automatically find and fix problems preventing your PC from starting up or working correctly.
Download Now
Watch Demo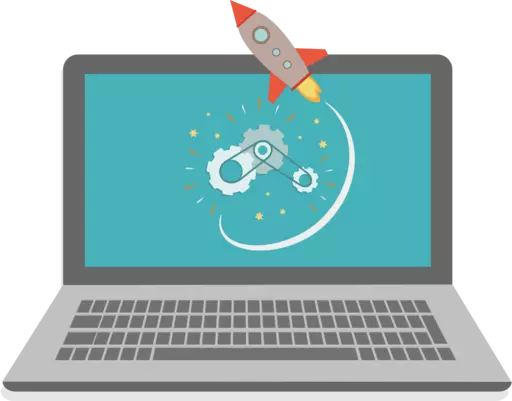 Complete diagnostics & repair in 3 easy steps
Download a copy of EasyRE to any PC or Mac, burning it to a USB or CD. We even have video tutorials showing you how!
Start the PC that needs fixing from the EasyRE USB or CD (which will work even if you normally can't start your PC).
Watch as EasyRE scans your PC and displays a list of recovery options. All you have to do is click 'begin'.
EasyRE automatically searches for problems and fixes them. When it's done, just reboot your PC and you're good to go!
15 years of research and development
We've been working on system utilities, backup solutions, and disaster recovery for the past 15 years, and we have no intention of stopping anytime soon. 10 years ago, we realized that the traditional approaches to system recovery just weren't good enough, and set about trying to come up with something better.
With Easy Recovery Essentials for Windows, we've created something different: a recovery solution that first understands your computer, then fixes it. Unlike other products, EasyRE methodically tests and validates each component in your system, simulating the boot process and identifying where things go wrong.
A scientific approach to system recovery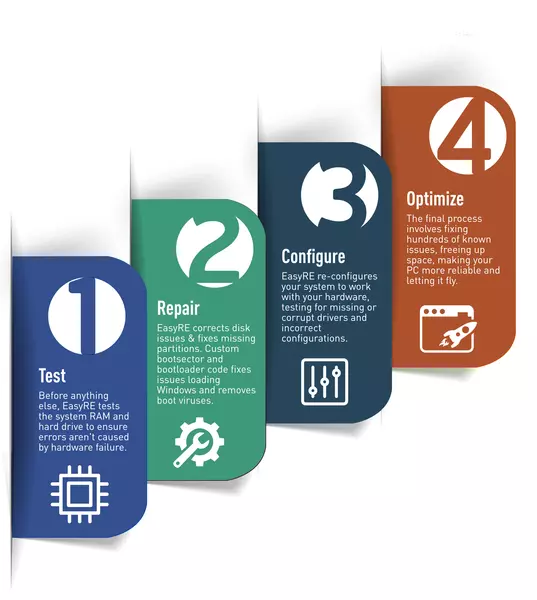 It's not possible to fix something without first understanding how it works – and the way a PC works is vastly more complicated than most people realize. In the process of developing Easy Recovery Essentials, we've published a number of articles and research papers covering the details of the system boot process.
As a result of this research, we've developed a patented method of system recovery that starts by testing each stage of the PC boot process and simulating the results, starting with your hardware and making its way up. At each point, EasyRE verifies that the software or hardware components are functioning correctly and working as intended. Anything that isn't working as intended is logged and reported, and a number of different approaches for repair and recovery are attempted.
By understanding not just each, individual component but also how they all fit together as a whole, EasyRE is even able to implement workarounds and fallbacks, which is why EasyRE can repair computers that other software can't.
Your data comes first. Always.
Dropping your PC off at the Geek Squad® or your local PC repair store before you leave for work and picking it up on your way home may seem like a good idea — but our research shows that over 85% of PC repairs result in a complete format and restore. We know your data is valuable and that you'd do anything to keep it safe — that's why EasyRE is explicitly designed with non-destructive repair in mind. Fix your PC, don't nuke it.
One-click repair like never before
It's our opinion that there's no point in having the best and most-capable repair software ever created if it's not easily accessible or too difficult to use. All you need to use EasyRE is access to a working PC or Mac, from where you can copy EasyRE to a USB or CD. The EasyRE CD/USB is plugged into the PC that doesn't work, and the rest happens virtually automatically.
Once your damaged PC is booted from the EasyRE USB or CD, it automatically starts looking for Microsoft Windows® installations and presents you with a menu featuring a list of possible recovery actions. You have the option of performing a patented one-click repair™ or scanning for viruses, as well as access to advanced system recovery tools and utilities.
The EasyRE recovery environment lets you access your files and documents for backup to make sure your data is safe, and even gives you access to a web browser if you need to email yourself a file or look something up.
A trusted name in PC repair
NeoSmart Technologies' software is used and recommended by the most respected names in the industry, and has had the distinct honor of helping fix the world's PCs for the past decade.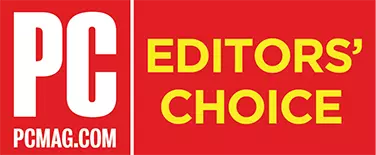 Feature Comparison
| | Home Edition | Professional Edition | Server Edition | Technicians' Edition |
| --- | --- | --- | --- | --- |
| One-click Windows® Repair™ | | | | |
| Hardware testing & Diagnostics | | | | |
| System Rollback & Restore | | | | |
| File backup & recovery | | | | |
| Web browser | | | | |
| Antivirus scanner | | | | |
| Partition editor | | | | |
| Windows Business & Enterprise support | | | | |
| Windows Server support | | | | |
| Repair multiple computers | | | | |
Pick a version and start downloading