When I try to run BCD 2.0 Beta 100 I get the following error message.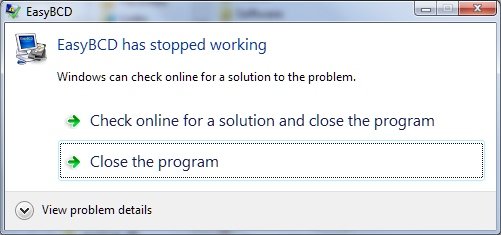 Crash Details
Description:
Stopped working
Problem signature:
Problem Event Name: CLR20r3
Problem Signature 01: easybcd.exe
Problem Signature 02: 2.0.0.100
Problem Signature 03: 4c100c32
Problem Signature 04: EasyBCD
Problem Signature 05: 2.0.0.100
Problem Signature 06: 4c100c32
Problem Signature 07: 10b
Problem Signature 08: 21f
Problem Signature 09: System.NullReferenceException
OS Version: 6.1.7600.2.0.0.256.1
Locale ID: 2057
Read our privacy statement online:
http://go.microsoft.com/fwlink/?linkid=104288&clcid=0x0409
If the online privacy statement is not available, please read our privacy statement offline:
C:\Windows\system32\en-US\erofflps.txt
I have the same error while using beta 99 however, when I use beta 88 I get the following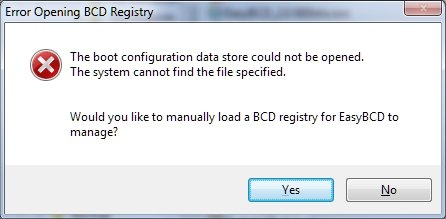 I have installed Windows 7 Ultimate in a VHD and the drive letter for the Bootdisk/System Disk (XP) is removed..
However both versions of EasyBCD work when I give a drive letter to system partition.