While tinkering with the not-working-start from a SSD I found that there must something else wrong...
I have a WinXP OS on one of my partitions which I cannot start it anymore. Looking to the BCD adjustments I found, that there is a wrong drive letter. My WinXP is on partition H:. But it shows to partition J: (where is a Vista system)...
So I deleted this entry and tried to add a new entry. At once it shows that the correct drive has been automatically determined... But it's wrong. When I uncheck the box and choose the drive letter manually, the drive letter gets wrong inspite... Look at this picture: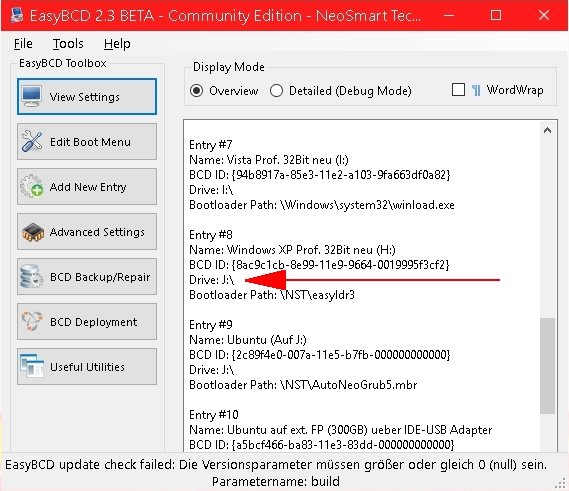 However, on the drive where partition H: is there are still two other OS (a Vista and a Win8.1). When I change to drive H: as first boot device, a metro GUI starts and shows me Win8.1 and WinXP. Choosing WinXP it starts normally....
Can anybody explain what's up there?
At the footline of the Picture you can see also another bug:
"EasyBCD update check failed" The version parameter have to be greater than zero or equal zero (0). Parameter name: build
Why cames this message?