I have a non-booting SSD with a valid Windows 10 Installation on it.
, BUT IT NEVER gets to the Login Screen/Dialogue. Just a BLACK Screen with cursor and a small blue circular gif.
HOWEVER it would seem the OS has fully booted as the PC does appear on my network, the shares are visible & accessible.
Of course I did not have RDP, Teamviewer etc activated so I cannot do anything remotely.
There is no 3rd party graphics card involved, it use the integrated graphics support.
Faced with a re-install and VERY LARGE re-install of many non-MS software and no apparent way to re-install and retain my files and added programs, I am desperately hoping for some illumination & guidance on what a next step could be and pointers etc.
This is the first time EasyRE has not worked for me and I have had licenses for most MS-OS releases - XP, Win 7, Win 8 and Win 10.
The graphic below seems to show hope that literally ANY boot problem can get fixed, I have been hoping so but alas not working for me.
As an open learning person I am no way above having the obvious or simple mistakes I have made pointed out to me, corrected and then move on rapidly.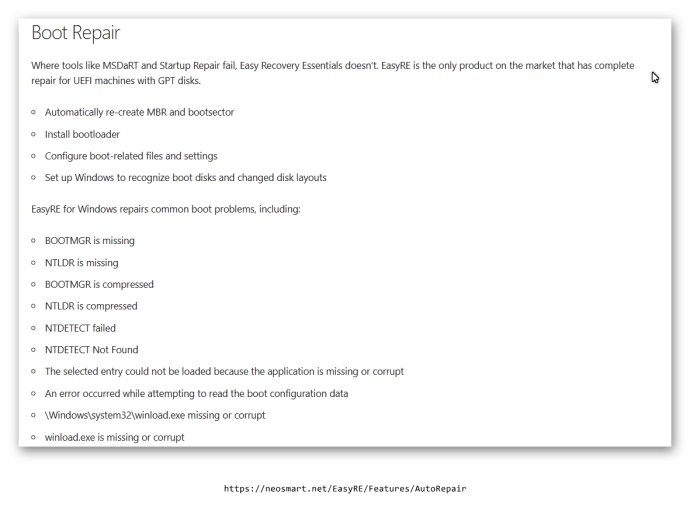 Many thanks in anticipation of some valuable input and illumination of where I may progress.
Ken MURDOCH - IT Practitioner >45 years [ YES, from the green screen DOS days ]