Hi,
I was hoping to use EASYBCD to manage my dual boot. I seem to currently have Windows bootmanager.
I bought the PC with two partitions preinstalled, first drive/partition (C) has Vista Premium and the other was blank and now succesfully has Mac OSX Tiger 10.4.8.
After installing OSX I couldn't boot in to windows (only OSX) from the OSX bootloader even when it gave me the option (it just keep rebooting in a loop). I then used the Vista install DVD to repair/recover the MBR which worked fine.
Rebooted into VISTA ok and ran EASYBCD:
Here is the error message: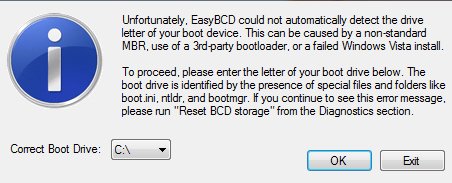 I get this msg on launch after previously adding a Mac OS to EASYBCD and rewrote Vista bootloader under Manage Bootloader. This message appears whenever I launch EASYBCD after booting into Vista.
OSX bootloader still tries to load but WINDOWS bootmanager then kicks in and I have dual boot. But still this error (above).
Any help anyone give would great!
Last edited: