Hi all... First thank you for EasyBCD and NeoSmart. - no rush. Question.
My desktop set up contains 4 SSD's and 1 nvme. For longest I installed linux on the nvme (since it's fixed to the motherboard and used Grub Customizer) as the boot agent...and things worked fine somewhat until Win 11 came out. My preference is for learning and experimentation, thus I set up each OS in its own SSD.
Three of the Windows SSDs are partition style of GUID Partition Table (GPT)
Only one of the Windows is partition style of Master Boot Record (MBR) ... see above
For reasons unknown to me, thru trial and error, EasyBCD works best with the MBR and can logon and select the other two windows installs. However I am at a loss on how to point to the linux OS's on the nvme. Any basic thoughts would be greatly appreciated. The only way to access the linux OS's so far seems via the BIOS which I don't want to do. And hard lessons aside, I don't just yet wish to give Win-11 any control or power; meaning only want it to be an an option. No sure but some times it conflicted with the set up before and forced me to reset two of the win10 OSS's, a painful process. On the nvme, Zorin was installed first, then Ubuntu added. Via BIOS, I able to access with whichever OS from grub.
For longest--prior--I employed GrubCustomizer as the main multi-boot agent--[a fine product which I greatly appreciate Daniel Richter], however for reasons beyond my newbie knowledge, it only recognized the SSD's formatted in GPT or not MBR... from within zorin. So for now foregoing GrubCustomizer for short-term and attempting to go route of Easy BCD 2.4.
Dear all, only want a basic, top level, neanderthal, Cro-magnon style, intuitive guide without getting too detailed. Thank you God Bless!
Here's lsblk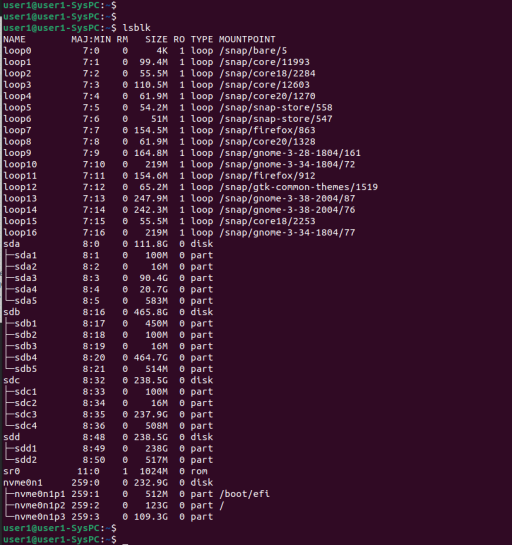 And here are 2 images.. for
sudo parted -l .... (image 1 of 2... and image 2 of 2) . Thanks.