I'm new to this forum and EasyBCD, but I've searched and can't find my situation elsewhere. Sorry if this has been covered elsewhere, but here goes....
I have Windows Xp and Windows 7 installed on two different hard drives. Xp was installed first and I recently installed Win 7 on a new hard drive. I have EasyBCD installed. As long as I have the Windows 7 CD in the CD drive, and have the boot priority set to CD first, it will come up to a Windows Boot Manager screen showing both Xp and 7 as choices. If I don't have the CD in the drive, it will boot directly into Xp without ever showing the Windows Boot Manager screen, just like it did before I installed Windows 7. If I have the boot priority set to the hard drive (either of them) first, it will just boot Xp without the windows manager screen coming up.
When I boot into Windows 7 from the boot manager screen, it loads and runs fine. When I try to boot Windows Xp from the boot manager screen, it boots to an Xp boot screen asking for a password (which I never used when booting Xp before installing 7 in this dual boot arrangement).
I've read the FAQs, and looked at the computer management screen, but still can't figure out what I'm doing wrong. Any ideas would be greatly appreciated. Thanks in advance!
Screen shot of EasyBCD: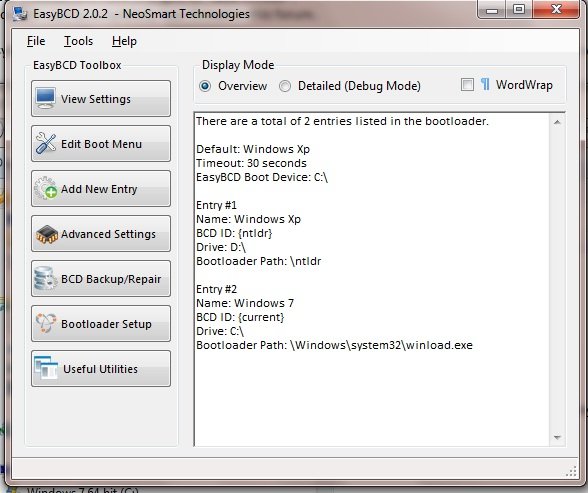 Computer Mgmt screen: