Get the fix to "Status: 0xc000000f" boot error for Windows XP, Vista, 7 and 8 operating systems. Most users report this error for XP, but it also appears in Vista, 7 or 8.
You can find below a quick guide on how to fix this error. You'll need to use your Windows setup disc for some solutions outlined below to access the command line.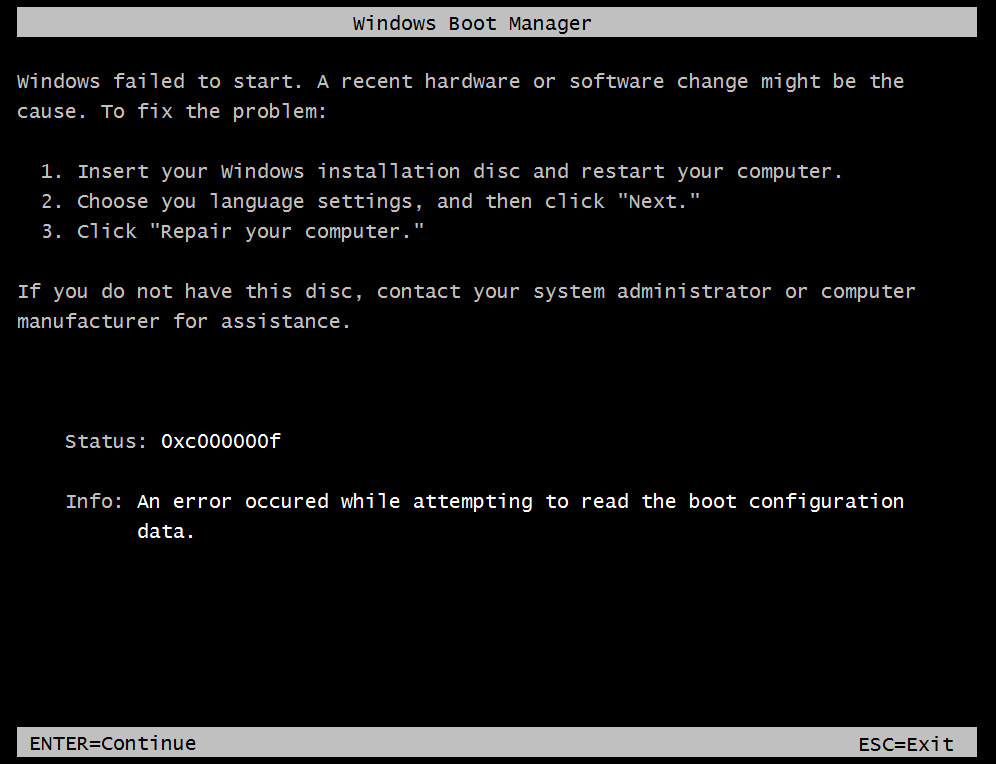 If you don't have your installation disk, download Easy Recovery Essentials (our repair and  recovery disc) that can fix your computer of this error automatically and faster using its built-in "Automated Repair" technology.
Why your PC shows Status: 0xc000000f. It's difficult to determine the main cause of this error, but the most likely cause is a  hard drive failure or a corrupted boot sector.
Sample Status: 0xc000000f Error in Windows
This is how the error should look like on your computer screen, but each operating system version may have different text, especially around the "Status: 0xc000000f" error message, e.g. Windows 7 vs. Windows 8.
Windows Boot Manager

Windows failed to start. A recent hardware or software change might be the cause. To fix the problem:

1. Insert your Windows installation disc and restart your computer.
2. Choose your language settings, and then click "Next."
3. Click "Repair your computer."

If you do not have this disc, contact your system administrator or computer manufacturer for assistance

Status: 0xc000000f

Info: An error occurred while attempting to read the boot configuration data.
Fix 0xc000000f
Windows Setup CD/DVD Required!
Some of the solutions below require the use of the Microsoft Windows setup CD or DVD. If your PC did not come with a Windows installation disc or if you no longer have your Windows setup media, you can use Easy Recovery Essentials for Windows instead. EasyRE will automatically find and fix many problems, and can also be used to solve this problem with the directions below.
Fix #1: Make sure nothing is plugged in
Try to keep the number of devices plugged in at the minimum or unplug any USB disks or devices you may have recently added.
Also, consider changing the boot order from BIOS to make sure your PC boots from the hard drive and not from any other non-bootable discs next time.
Fix #2: Check the status of the hard drive and its cables
Similar to the NTLDR is missing error, try to check the IDE cables of your hard drive and make sure they are not loose or faulty.
You should also test if your hard drive hasn't failed yet. You can test the cables by connecting them to another PC with a similar Windows version.
Fix #3: Rebuild the BCD using bootrec.exe
This fix needs your Windows installation disc so you can access bootrec.exe. This is a tool built in Windows RE (Windows Recovery Environment). bootrec is a program that can repair boot configuration data and master boot records.
Boot Configuration Data (or BCD for short), contains boot configurations options and controls how Windows is started.
Here are the steps to accessing the bootrec tool:
Insert your Windows install disc
Restart your computer and boot from the disc
Press any key when the "Press any key to boot from CD or DVD" message appears
Select Repair your computer after you select your language, time and keyboard method preferences
Select your Windows installation drive (which is usually C:\) and click Next
Choose Command Prompt when the System Recovery Options box appears
Type in this command:

bootrec /rebuildbcd

Press Enter
Wait for the process to wait, remove the disc and restart your computer
Fix #4: Use Easy Recovery Essentials for a guaranteed fix
Easy Recovery Essentials (our Windows recovery and repair disc) can fix your PC of this error automatically.
Download Easy Recovery Essentials. Choose your version (XP, Vista, 7 or 8) before you go to download
Burn the image. Follow these instructions on how to burn the bootable ISO image very carefully, as making a bootable CD can be tricky!
Boot into Easy Recovery Essentials
Select Automated Repair and click on the Continue button
Choose your Windows installation drive's letter (usually C:\) and click on Automated Repair
The process will start now and Easy Recovery Essentials will fix this error automatically
Once the process is complete, click the Restart button
Done. The 0xc000000f boot error is now fixed in Windows XP, Vista, 7 or 8:
You can download Easy Recovery Essentials from here.
More Information
Support Links
Applicable Systems
This Windows-related knowledgebase article applies to the following operating systems:
Windows XP (all editions)
Windows Vista (all editions)
Windows 7 (all editions)
Windows 8 (all editions)