Get the fix to "NTLDR is missing" for Windows XP. This article also discusses the error causes and other general solutions you can follow.
Guaranteed! Automatically fix the NTLDR is missing error with Easy Recovery Essentials!
See how the "NTLDR is missing" error is fixed automatically or Download Easy Recovery Essentials for a guaranteed fix
We've added below all the available solutions you can do to repair this error. If none of these solutions are working for you, download Easy Recovery Essentials repair and recovery disk for Windows that is guaranteed to fix this error.
Alternative NTLDR error messages. The most common error message is "NTLDR is missing. Press any key to restart", but your PC can also show "Boot: Couldn't find NTLDR" or it could mention Press Ctrl Alt Del instead of Press any key: "NTLDR is missing. Press Ctrl Alt Del to Restart".
Regardless of what variant from above your PC displays, these are referring to the same error that is causing your computer not to load properly.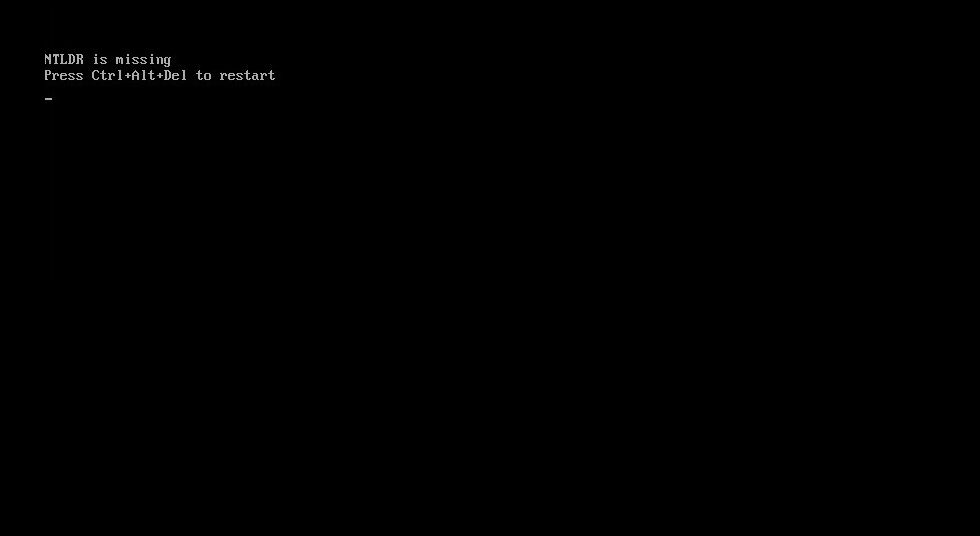 What is NTLDR
NTLDR is an abbreviation for NT loader, the boot loader used for Windows NT systems (Windows XP and Windows Server 2003). The boot loader runs from your computer's primary hard disk. You can also load it from an external media, such as USB disk drive.
The boot loader first reads a boot.ini file. If you have a corrupt boot.ini file, this can be a cause for the "NTLDR is missing" error message to appear.
Causes of NTLDR is missing
Similar to the "BOOTMGR is missing" error, the NTLDR error is shown if your PC tries to boot from a non-bootable media source or if you have a corrupt boot sector or master boot record. Another cause may be a loose IDE cable from your hard drive.
Also, look if you have a corrupt boot.ini file. Even though this file that NTLDR first reads, is protected by a system file, hidden and read-only, it can still get corrupted.
In extreme cases a very corrupt version of Windows can be the cause for NTLDR errors.
General solutions for NTLDR is missing
These solutions are general and you can follow them for any version of Windows: XP or 2003. You can find version specific solutions after this section.
Fix #1: Unplug recent USB disks etc.
A very easy fix for "NTLDR is missing" is to make sure you didn't recently plugged-in any USB flash drive or hardware that could lead to this error.
If you did, try to unplug it and restart your PC to see if the NTLDR error disappears.
Fix #2: Remove non-bootable disks
Another easy fix is to make sure you don't have any non-bootable media added recently in your computer, such as CDs, DVDs, USB flash drives etc.
This can also include any memory card you may have entered in the card reader. The NTLDR error may appear if your computer tries to boot from one of these non-bootable media devices.
If this solutions works you can prevent it by changing the boot order from BIOS to make sure your computer boots from the hard drive first, as primary source, and not from any other devices.
If the error still appears after restart, try the next solution or download our repair Windows disk Easy Recovery Essentials for a guaranteed fix.
Fix #3: Check cable ends of your primary hard disk
A loose IDE cable can lead to this error to occur. Make sure both ends of your hard disk cable are not faulty or loose.
Try to connect and reconnect back the cable and restart your PC.
If none of the next solutions are working for you, try to check if the IDE cable is faulty and replace it with a new one. You can check that by replacing it on another computer's hard drive and restart that PC to see if it boots correctly.
Fix NTLDR is missing for Windows XP
Windows Setup CD/DVD Required!
Some of the solutions below require the use of the Microsoft Windows setup CD or DVD. If your PC did not come with a Windows installation disc or if you no longer have your Windows setup media, you can use Easy Recovery Essentials for Windows instead. EasyRE will automatically find and fix many problems, and can also be used to solve this problem with the directions below.
Fix #1: Replace NTLDR and NTDETECT.COM files
XP users can replace the required files for NTLDR to load correctly by using your Windows Installation Disc. The files are named NTLDR and NTDETECT.COM.
Here are the steps to replace these files:
Inserting your Windows XP install CD
Restart your computer and boot from the CD
Press any key to boot from the CD
Press R when you reach the Windows Options menu to access Repair Console
After this step you'll need to log into Windows by pressing 1 using your Administrator password
Use the following 2 commands to copy NTLDR and NTDETECT.COM file from the Windows installation disk to your hard disk:

copy D:\i386\ntldr C:\
copy D:\i386\ntdetect.com C:\

where D:\ is your install CD's drive letter and C:\ is your Windows XP partition's drive letter

Once these files are copied, remove your Windows installation disk
Restart your PC
Fix #2: Use Easy Recovery Essentials for a guaranteed fix
Easy Recovery Essentials (Windows recovery and repair disc) can fix this error automatically.
Download Easy Recovery Essentials. Choose your version (XP, Vista, 7 or 8) before you go to download
Burn the image. Follow these instructions on how to burn the bootable ISO image very carefully, as making a bootable CD can be tricky!
Boot into Easy Recovery Essentials.
Choose Automated Repair option and click on the Continue button
Select your Windows installation drive's letter (usually C:\) and click on the Automated Repair button
The repair process will start. Easy Recovery Essentials will fix this error automatically
Once the process is complete, click the Restart button
That's it. The "NTLDR is missing" error is now fixed.

You can download Easy Recovery Essentials from here.
Fix #3: Rebuild boot.ini file
The next steps are to rebuild the boot.ini file:
Inserting your Windows XP install CD
Restart your computer and boot from the CD
Press any key to boot from the CD
Press R when you reach the Windows Options menu to access Repair Console
Enter your Administrator password
Enter the following command when Command Prompt appears:

bootcfg /rebuild

Remove the install CD
Restart your computer
More Information
Support Links
Applicable Systems
This Windows-related knowledgebase article applies to the following operating systems:
Windows XP (all editions)
Windows Server 2003 (all editions)