1&1, popular website hosting service and domain name registrar, have a very serious problem with their nameserver configuration web interface.
We're hosting our own domains with 1and1 (pointing to our dedicated servers hosted with the excellent and much-recommended Lunarpages), and were attempting to reconfigure our nameservers to point to a different IP address. We went into the 1&1 admin interface and attempted to re-configure the neosmart.net nameservers to point to the new IP – a week later, the DNS hadn't yet propogated and we couldn't find a good explanation.
This was how we had originally set up our nameserver entries in the 1and1 web administration center: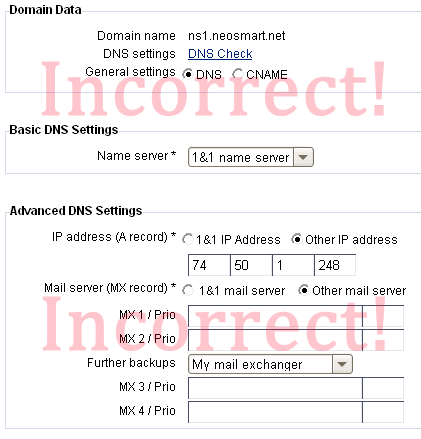 It would seem that these settings would work – we certainly thought so – but unfortunately, there's a hidden problem that 1and1 doesn't warn you about: you can't leave the MX records blank. In our case, we left them blank assuming that would mean they were not to be created. It turns out that 1&1 will silently & invisibly error out under such a configuration – you either set your own, custom MX records or you leave it set to "1&1 mail server" otherwise. Leaving it blank will make it seem like its working (even a quick DNS check (see the link at the top of the image?) will return the correct result) but it'll never propogate and your old settings will stick.
This is the correct configuration: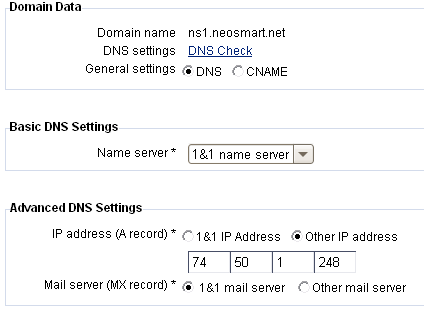 As you can see, the only difference is that the MX Record was set to "1&1 mail server" instead of left as custom and blank – this time we saw the expected DNS propogation results within hours!
1and1 had better deal with this problem; either giving you an error if you enter a blank MX record or else understand a blank "Other mail server" option to mean that an MX record shouldn't be created in the first place. And updating their "DNS Check" service to return the real results isn't a bad idea either.