If you are a die-hard Windows user and are considering jumping over to the other side of the fence (don't worry, many of us have had this feeling at one point or another), you may be wondering, "are there any good reasons for me to switch?" or "what software can I use on the Mac to replace the software that I use on my PC?"
Fear no more. I've written this article with the potential Mac "switcher" in mind. I've been a long-time Windows-user myself, and have only recently made the switch to what, in my personal opinion, is a better overall platform.
First and foremost, Apple computers are not the cheapest on the planet, but you definitely get what you pay for. You're probably wondering, "is it really worth spending so much on a computer?" This is really up to personal preference and budget, however I do feel that it is a great investment, as a Mac will last you several years, not to mention that Macs have a very high resale value. You could turn around in 2 years and sell your Mac for close to what you paid for it then and buy a new one. You just can't do that with a traditional or OEM PC, because they lose value from the day you purchase it.
When you consider making an investment such as this, make sure that you pick out a Mac that's right for you. There's nothing worse than purchasing a computer that you're not going to be satisfied with. First, you need to decide if you are going to be doing any traveling or moving around with your Mac. If you are, you'd most likely want to look at getting a portable Mac, but if all your computing is done from the comfort of your home office (or bedroom), then a desktop Mac will be fine.
The following chart lists several common tasks and which Mac would be right for you in either situation.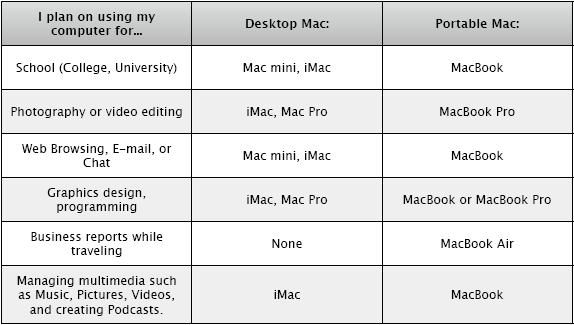 Here is a quick run-down between the different Macs available:
Desktop Macs
Mac mini: Provides the Mac experience on the cheap. Think of this Mac as the "PC tower" equivalent. You would go about setting up a Mac mini in the same fashion that you would when setting up a PC, meaning that you'd need a display, keyboard, and mouse. Does not have features such as iSight camera. Price: starting at $599 USD.
iMac: Provides the entire Mac experience in an all-in-one package. The iMac features a stunning LCD display which is built into the computer itself, and you have the option of either a corded or wireless keyboard and mouse along with your Mac, as well as other build-to-order options if you are ordering from the Apple Online Store. Includes FrontRow remote and iSight camera built into the display. Price: starting at $1,199 USD.
Mac Pro: If you're looking for the ultimate workhorse, the Mac Pro is the machine you'd be looking for. Equipped with dual quad-core Intel Xeon processors (for a total of 8 processing cores), with support for up to 16GB of RAM with either an ATi or nVidia graphics processor, nothing will ever hold you back. Requires that you have your own display,
keyboard, and mouse. Price: starting at $2,700 USD1.
Portable Macs
MacBook: If you're a student, or just someone looking for a portable Mac for every-day, common tasks like e-mail, word processing, browsing the internet, managing your photos, music, and video libraries, the MacBook may be the option for you. The MacBook comes with a 13" widescreen display with a glossy coating which provides rich colors(this is great for watching movies), with either a 2.0 GHz or 2.2 GHz Intel Core 2 Duo processor meaning you've got two processing cores ready to crunch away at whatever you throw at it, 1 GB of RAM, and an Intel X3100 graphics processor. Price: starting at $1,099 USD.
MacBook Air: Primarily for those who travel frequently, the MacBook Air is the "world's thinnest notebook," in an ultra-portable form factor without compromising performance or screen size. Price: starting at $1,799 USD.
MacBook Pro: The portable powerhouse. Available with 2.2 GHz, 2.4 GHz, or 2.6 GHz Intel Core 2 Duo processors, 2 GB of RAM, and a nVidia 8600M GT graphics processor with either 128MB or 256MB of video memory, and housed inside of a stylish aluminumen closure, the MacBook Pro is one beast of a notebook. The best part is that it is only1.0-inch thick, and it weighs 5.6 pounds. Price: starting at $1,999 USD.
You'll also be happy to hear that every new Mac comes with iLife '08, a collection of programs which will allow you to manage your digital life and be creative, artistic, and just have fun. iLife '08 includes iPhoto, iDVD, iMovie, iWeb, and GarageBand. All New Macs also come with a 30-day trial of iWork '08, a 60-day test drive of Microsoft Office 2004 for Mac, and a trial of Aperture, which is Apple's premium photo editing solution. The latest Macintosh system software and iLife '08 are already installed on your new Mac when you start it up, but for whatever reason you feel like performing a clean installation, you can use the software installation discs that come with your computer.
There are tens of thousands of software applications available for Windows, which allow you to edit videos and photos, listen to music, write code, chat with other people, send e-mail and browse the web, and much more. Windows has a greater market share, therefore it is obvious that most programmers create applications for Windows. However, one thing that you will find on the Macintosh platform is that you do not need two or three different programs to complete your tasks, and all of the applications available for the Mac have rich user interfaces which are easy to follow and learn, and lack the inconsistency in appearance of Windows applications.
You can find a comparison of Windows and Mac software in our "Mac Switcher's Guide."
Uninstalling applications on a Mac is very easy compared to on a Windows PC. For example, on a Windows PC you need to open Start, Control Panel, Add or Remove Programs, and then click on the applications name in the list and go through the steps in the uninstaller software. On a Mac, you open the Applications folder, and drag the application that you wish to uninstall to the Trash. It really can't get much easier than that.
Managing applications is a breeze on a Mac. Simply drag the applications icon from the Applications folder to the dock. To manage the open application windows on your screen, press F9 to activate Expose, which shows you smaller previews of all the open windows, allowing you to Tab through or click on any window to bring it to the foreground.
Another great feature for managing open applications in the latest version of Mac OS X is Spaces, which allows you to have applications assigned to specific "spaces", essentially acting as if you have more than one display. This helps reduce clutter and allows you to work more efficiently. For example, you could have Safari open in one space, iChat AV and iTunes open in a second space, and Mail in a third space.
The Mac OS X system software also comes with a plethora of additional features which will make your every-day computing life a lot easier, two of these features include:
Calculate mathematical equations Spotlight: One of the neat features in Mac OS X is
Spotlight, it allows you to find your files and applications instantaneously with ease.
But did you know that in Mac OS X 10.5, Spotlight can also calculate mathematical equations? Simply type in the equation, and Spotlight will do the math for you (e.g.:
4+4 will give you the answer 8, sqrt(25) will give you the answer 5, and typing pi will
display 3.14).
Define words using Spotlight: Another nifty feature in Mac OS X 10.5's Spotlight is the ability to define words directly from the results display. Type a word into Spotlight(for instance, Computer) and it will display a partial definition (in this case, it would display noun an electronic device f…) Simply click on the partial definition, and Dictionary will display the full definition.
When it comes time to upgrade your system software, you don't have to worry about which version to pick! There is only one "edition" of Mac OS X, and it comes with all of the features. In comparison, there are 8 editions of Windows Vista, not counting Starter and Enterprise: Home Basic, Home Premium, Business, and Ultimate, in both 32-bit and 64-bit flavors. At the time of writing, Mac OS X costs $129.00 USD, and family packs cost $199.99.
Windows Vista Home Premium costs $219.00 and it doesn't include all of the features that
Windows Vista offers, it's even more costly to migrate your entire home over to Windows Vista if you have more than one computer. Not to mention Windows Vista only runs decently on computers purchased in the last ~3 years, while Mac OS X 10.5 is working on hardware as old as 7 years.
If you're a gamer, fear not: Macs can now run Microsoft Windows natively! Using BootCamp, you can dual boot Windows on your Mac just so you can play the latest games or run those applications that have no Mac equivalent. Essentially, Macs give you the best of both worlds with a lower total cost of ownership ("TCO").
If you're a seasoned keyboard veteran in Windows, you might be a bit upset at first to find that the Mac uses different modifier keys, but it doesn't take very long to get used to it. For example, to copy text on a Windows PC you'd first highlight the text and then perform the Ctrl-C key combination. To do the same thing on a Mac, highlight the text and then perform the Cmd-C key combination. It's actually easier because the Cmd key is closer to the commonly-used keys for cutting, copying, and pasting (X, C, and V respectively)… unless you're a Dvorak user, of course.
With all of this information, you should be able to make an educated decision on whether or not a Mac is right for you. As a recent switcher, I can fully vouch for the Mac and stand behind my decision. I no longer have to worry about maintaining my computer to keep it running at top speed, everything "just works."