Book shoppers on Amazon (remember when Amazon used to be "just" an online bookstore?) will be happy to hear that Amazon.com has a pretty interesting offer: buy a book now, and start reading it instantly while you wait for it to arrive in the mail. Of course, Amazon recently announced the availability of Kindle MatchBook, its program to offer heavily-discounted Kindle editions of books Amazon customers have previously purchased.
Upon placing an order for (select) books on Amazon, on the Thank You page you'll be informed that a free "sample copy" of the same book has been made available to you on your Kindle or your Kindle account, should you wish to claim it: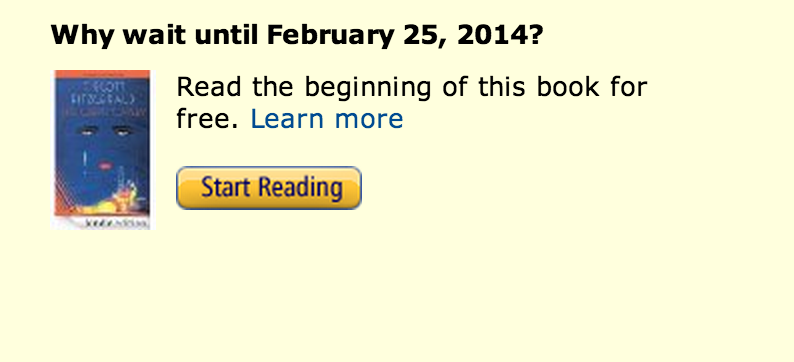 The "Start Reading" button displays the following when clicked:
You can read the beginning of your purchased book(s) instantly online. When you click to start reading, Kindle Cloud Reader will launch in your web browser, and your free Kindle book sample will be available in your Kindle library. You can also access your Kindle book samples with Kindle for Android or Kindle for iOS. For more information, click here.
When the "Start Reading" button is clicked, the customer is taken to read.amazon.com with the book automatically loaded, and a copy of the sample is also made available on the linked Kindle account.
Interesting facts:
The amount of the book made available is a severe disappointment. In this case, it was F. Scott Fitzgerald's wonderful The Great Gatsby, 1 but only the first 9 out of the 191 pages are included in the so-called "sample". It's unknown who determines the length of this sample (Amazon, the publisher, or someone else?) and how much (if at all) the length varies from one book to another. In this case, it is approximately ⅓ of the first chapter – in other words, not very much at all.
Surprise: it works after buying a (used) copy of the eligible book(s) from 3rd party sellers, too! Even though the Kindle Matchbook program is only offered for shoppers that bought via Amazon.com itself, the "start reading now" offer is valid no matter whom you bought the books from. Perhaps given how disappointing the "sample" is, that's not as big of a deal as it could have been.
It appears that if you do not take advantage of the "Start Reading" button/link when it is presented on the Thank You page immediately after placing your order, there is no way to go back and obtain Kindle access — so make it a point to click "Start Reading" the next time you see it!
---
Wikipedia: The Great Gatsby ↩