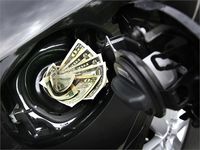 If you're trying your hardest to save money but just can't keep up with the crazy gas prices, we have a new mini-service you'll likely love.
It's a very simple and modest site with no frills to speak of, but GasTomorrow.com will predict the prices of gas in your neighborhood for tomorrow – so you can make a decision whether to fill up today or hold off until tomorrow. We're estimating the prices based on a model that takes into consideration the current price of gas in your neighborhood and the day-to-day change in the price of light, sweet crude oil on the market to try and help you save money.
Depending on where you are and what's going on in the economic and political scenes, the price-per-gallon of gas might change anywhere from two to twenty cents overnight. We did our best to make our predictions as accurate as possible, but of course, anything can happen and we make absolutely no guarantees as to the accuracy of the predictions.
Give it a try and let us know how accurate it is in your neighborhood. Follow us on twitter @neosmart and Like us on Facebook for more cool stuff!