One of the most popular (and addictive) group of applications making the rounds on Android handsets these days are Barcode Scanners. Barcodes traditionally contain a very minimal set of information, namely just a product SKU that can be used to (somewhat-) uniquely identify items at the store or lying around your home. QR Codes are an extension to barcodes that have been updated for the 21st century: they're specifically designed to be easily ready by the low-resolution cameras on mobile devices, quickly and accurately. SPARQCode itself is yet another layer of extension to the QR Code. It provides more functionality and adds support for extra usages.
A quick Google search for SPARQCode viewers for the BlackBerry fails to retrieve any interesting results. A similar search on AppWorld also shows no such luck – if you were to believe what you see, BlackBerry doesn't (yet) have a usable SPARQCode viewer!
But that's not true. It's there, though the RIM Geeks over in Canada – in their infinite wisdom – put away that functionality in such an impossibly-illogical location. But it's there.
If you saw that QR Code in the corner and said "Hey! That looks like the barcode I can scan to quickly exchange BBM PINs in OS 5!" you would be correct. BBM PIN Exchange in BBM5 is indeed an implementation of the SPARQCode. But not only does it use SPARQCode to make swapping PINs with your fellow CrackBerry addicts a lot easier, it's also a fully functional SPARQCode scanner, too!
Check it out. Just launch BBM, hit the menu key, and select the "Scan Group Barcode" menu item, as shown below: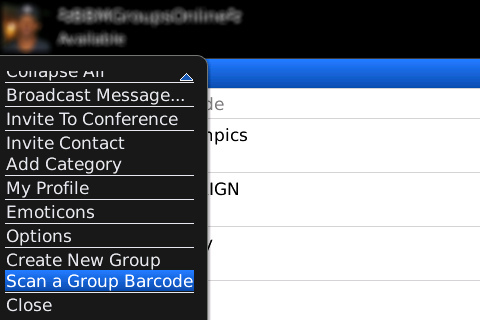 Now, instead of scanning your friends BBM, point the camera on your BlackBerry to the QR Code in the top-right corner of this post. Move your BB back and forth (it's not very good at this!), and… walla! BB will ask if you want to load the link to the mobile version of Wikipedia.
Want to test it again? Give this SPARQCode below a shot. It's for my brothers' flight which will be arriving very soon – can you use this remarkably compact image to direct your BlackBerry to the flight details? Give it a shot, and post a reply with where the flight is coming from/going to!

Bottom-line: BlackBerry does have an excellent SPARQCode scanner right out of the box (beat that, iPhone and Android!) but, unfortunately, it's very well hidden.