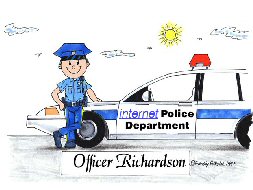 If you ever doubted that Bush was letting his quest for power take control of his position, here is your chance to rant. The internet, a long-sanctified refuge for people to do and act as they please under cover of pseudonym or nicknames has lost its shield of privacy. A new law signed by George W. Bush requires that anyone that "annoys" someone online must divulge his or her real name.. The problem is, different people get annoyed in different ways.
If I say I like Barney, one of the 100k members on a forum must get annoyed at that, it?s a statistical fact. If I say I hate Barney, another person (probably more) will also be annoyed that I said that.
If I even said 'The sky is blue,' a psychologically challenged person might feel offended that I overstated the obvious, and if I neglected to mention the color of the sky, someone might just take that the wrong way and I'll find myself in jail.
Why?
According CNet:
"Last Thursday, President Bush signed into law a prohibition on posting annoying Web messages or sending annoying e-mail messages without disclosing your true identity. In other words, it's OK to flame someone on a mailing list or in a blog as long as you do it under your real name. Thank Congress for small favors, I guess. This ridiculous prohibition, which would likely imperil much of Usenet, is buried in the so-called Violence against Women and Department of Justice Reauthorization Act. Criminal penalties include stiff fines and two years in prison."
I'm going to make my stance clear: I am not under any circumstances required to give my name out. I'm CG, maybe if I feel like it I'll tell you my name, but you know what? Ban me, I'm saying what I please under the First Amendment on any forum or blog I choose. Do what you like, see if I care.