Google Chrome 4.0 went live a couple of weeks ago, and it has a feature that's been missing in most mainstream browsers ever since the Web was invented: a progress bar that actually shows, well, the progress of uploads. It's really frustrating to be uploading a large file to a website or as an attachment to an email or forum post and not know whether or not it's taking this long because it's just slow or because it's really stuck.
Chrome 4.0 now shows the status of file uploads as a percentage, making it very clear just how quickly (or not) your uploads are progressing – and it's something that all browsers should add ASAP. Many social websites rely heavily on uploads of photos, videos, music, and other files and are forced to implement nasty workarounds (such as using Flash upload forms) to present a more user-friendly upload system.
A screenshot of Chrome 4.0's new upload progress indicator: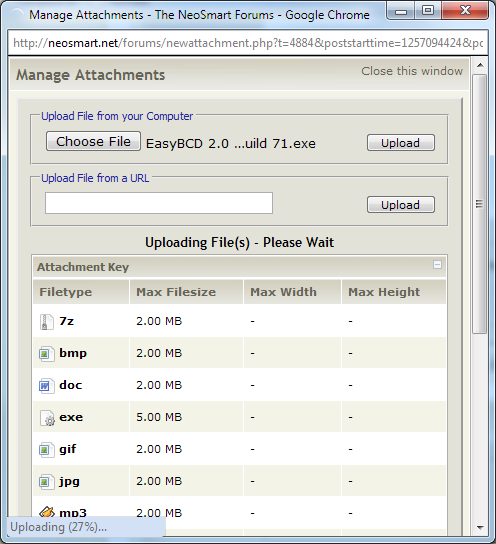 Chrome has quickly become our favorite browser at NST: it's fast, light, and doesn't get in the way.