Google is now unfortunately hiding the URIs for certain search results far more often than they ever have done in the past… and it's quite annoying. The Google search site is the pinnacle of function over form: it is sparse, plain, simple, and yet contains tons of information. But it seems that they're taking it a bit too far now, hiding valuable data making the results pretty useless. Marissa Mayer, where art thou?
As an example, search Google for "libmhash" right now. The first result is the result you want, but you'd never know it from looking at the search result: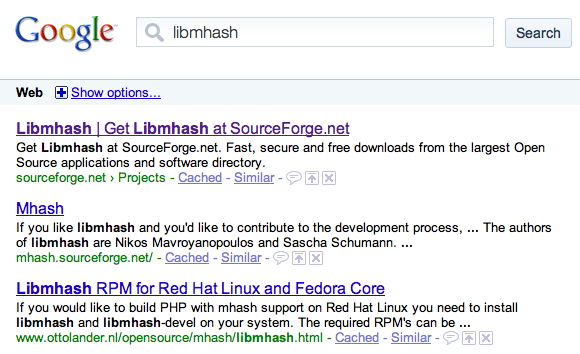 Personally, I clicked on the second result. In this case, it too led to the correct page, but the actual, valid result is the first. But where the URI should be in the search result, it instead says "sourceforge.net > Projects" which honestly leads one to think it points to a list of projects on SourceForge rather than the libmhash project. Google needs to either add the complete bread-crumb trail "sourceforge.net > Projects > libmhash" or else keep the full URI visible because it currently stands, the results are confusing and misleading.