All the hardware manufacturers currently on the market boast and brag about not using anything other than the latest solid-core capacitors on their high-end motherboards. Perhaps the most notable of these is Gigabyte, which has been touting its "Ultra-Durable" brand of capacitors more than any other manufacturer. According to Gigabyte, their capacitors will last up to 18 times longer than standard electrolytic capacitors, and 3 times longer than the solid-core capacitors used in other high-end motherboards: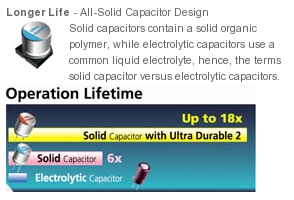 The problem is, these capacitors are also susceptible to internal damage and malfunctions, even if not as often. And when these capacitors do fail, it's not as easy to tell nor as easy to fix.
Having recently purchased a Gigabyte X38-DQ6, I was disappointed to learn that their "Ultra Durable" gimmick didn't necessarily mean that the motherboard wouldn't ship with a bad capacitor in the first place. It soon became quite obvious the motherboard was afflicted with an ailment or the other: every time the PC would be improperly shutdown, the X38-DQ6 would begin to boot-cycle and refuse to POST until it was removed from the power for several minutes to an hour. And that period grew progressively longer until about a month later it still wouldn't boot even after a 24-hour break.
The only good thing about the Gigabyte X38-DQ6 is the two year warranty – which I used to promptly ship the board back to the dealer and ask for a replacement. A week later, I was told to pick up the board; and upon my arrival I was informed that they had "thoroughly tested" the board and found nothing wrong with it.
Sure enough, the motherboard worked just fine once I'd re-assembled the machine; but a week later and it was power-cycling indefinitely once more. So I shipped the board back and was told that it was probably a bad capacitor (which I already knew, and tried to explain) and that it wasn't detected since the GA-X38-DQ6 uses solid-polymer electrolytic capacitors which usually don't leak or explode when they go bad – they just stop working the way they should without any visible symptoms of damaged/malfunctioning components.
Perhaps solid-core capacitors really are "ultra durable", but companies like Gigabyte had better learn to start testing each individual capacitor on allegedly-damaged boards before declaring them free of defect and shipping them right back to their customers.