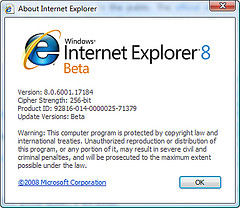 As promised in our last post, we have some screenshots of Windows Internet Explorer 8 for those of you anxious to see where the latest iteration of Microsoft's browser. While there are a couple of changes that stand out, most of the visual improvements are subtle and take some keen observation to notice.
The screenshots: http://neosmart.net/gallery/album/view/apps/Internet+Explorer/IE8/
We're still working on an in-depth review and analysis of what IE8 brings to the proverbial web browser table.