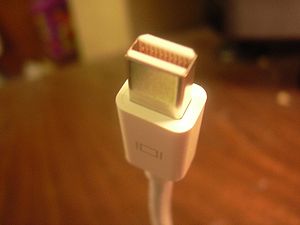 Back in 2008, Apple introduced the new Mini DisplayPort standard as the only video output method on the new MacBooks and LCDs. Mini DisplayPort is a freely-licensed VESA standard [1] and has now been adopted by a number of other display manufacturers, and is a miniaturized version of the original DisplayPort interface.
This week, the fourth revision of the HDMI high-definition video output connector was revealed in the form of HDMI D, weighing in at a mere fraction of the original HDMI connector size and intended for use with mobile and embedded high-definition video devices [2]. The new HDMI connector is expected to ship later this year, and is in direct competition with VESA's Mini DisplayPort interface.
VESA is the international governing body for computer graphics standards, and has been designing video output standards since its conception in the late 80's [3]. HDMI is a private group formed in 2002, and licenses its interfaces out to manufacturers at four cents a device + a $10,000 yearly fee.
HDMI doesn't have many (if at all) advantages over DisplayPort, besides support for the xvYCC color space and Dolby audio codecs (as a part of the licensed technology). However, despite the licensing costs, HDMI has proved popular mainly due to its original mass adoption as a result of being signal-compatible with the DVI interface [4].
The new HDMI-D interface is smaller than the Mini DisplayPort, though both have the same maximum resolution/bandwidth and similar power requirements. The numbers are as follows:
| | Mini DisplayPort | HDMI-D | DisplayPort | HDMI-A |
| --- | --- | --- | --- | --- |
| Max Resolution | 2560×1600 | 2560×1600 | 1920×1080 | 1920×1200 |
| Pin Count | 20 | 19 | 20 | 19 |
| Dimensions | 9.1 x 5.4 mm | 6.4 x 2.8 mm | 16 x 4.7 mm | 13.9 x 4.45 mm |
| Licensing | Free | $0.04/Device | Free | $0.04/Device |
---
References