Users attempting to upgrade from Microsoft Windows Vista Ultimate Edition to Windows 7 Build 7100 (the unofficial RC1 release leak), are greeted with the following "compatibility warning" dialog: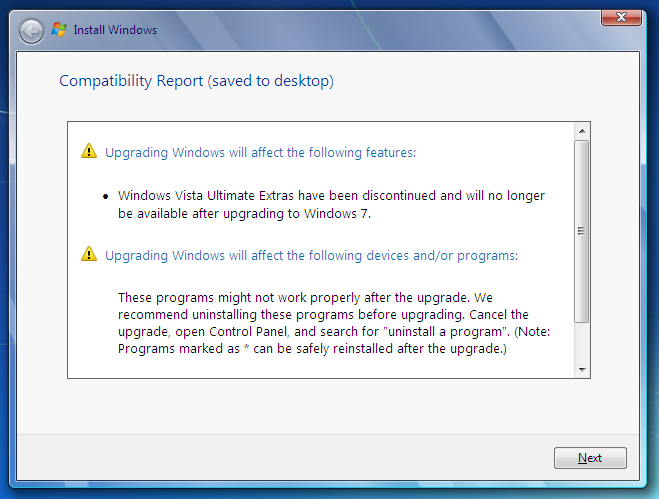 Windows Vista Ultimate Edition's "Ultimate Extras" have been a constant source of derision and anger from Vista users ever since its release 3 years ago. If the blog posts are to be believed, millions of users purchased Windows Vista Ultimate Edition in the hope that the added-value "Ultimate Extras" package – which was left un-described and of unknown worth at the time – would turn out to be a good investment.
Ultimate Extras are a couple of the minor Ultimate Edition exclusives that Microsoft used as a selling point to get users to purchase the most expensive version of Windows Vista. It was originally marketed as something similar to the ancient "Plus! for Windows" package that was quite popular back in the days of Windows 98; except it never really panned out that way.
Ultimate Extras was something of a hoax for the first couple of years, bringing nothing more than animated wallpaper and extra cards game to the table. Since then a couple of new themes/sounds have been added to the package along with a couple of other lame games – all of which made Vista users feel all the more "tricked" into purchasing a more expensive version of Windows that they, in all honesty, didn't need.
Well, it looks like Windows 7 will be doing away with the Ultimate Extras though it's anyone's guess what the final SKU lineup will look like and what the selling points and feature-sets of each of the editions will stack up to. But here's to hoping that Microsoft learns from (even more) of its mistakes and provides something of real worth with the more expensive editions of its latest OS offering.