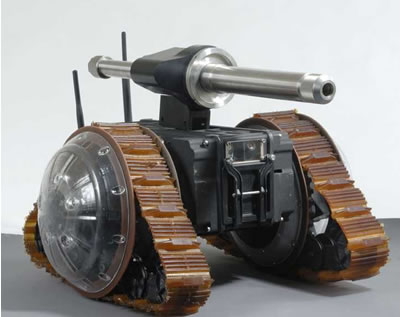 Israel has just unveiled its newest way of "defending itself" that would "reduce the risk to it's forces [IDF]." It's called the VIPeR, and no, despite the spelling, it's not a warez team. It's an autonomous hand-to-hand fighting machine, that has an onboard Uzi submachine gun and grenade storage. It's supposed to be able to enter combat zones on its own, and engage enemy fighters. According to its manufacturer, Elbit Systems, it'll be used to move "undeterred by stairs, rubble, dark alleys, caves or narrow tunnels." It has an onboard camera that lets it aim, and a hell of a lot of ammo in case it misses.
That's rather scary. A robot – that can fight, kill, & plant bombs – all indiscrimanetly of course. The last time we checked, AI wasn't in production yet, so we highly doubt the "VIPeR" can tell the difference between civillian and "guerilla fighter."
If it's an indiscrimate killing machine, remotely deployed to "combat zones," it's going to kill all the wrong people. If you've ever been to Lebanon or Palestine, you'd realize just why this is such a ridiculous deception: there are no "combat zones," just combatants amongst civillians. All of them are next-door-neighbors, fathers, brothers, children. They're not fighting against an army, they're fighting against armed citizens and rebels. There's a big difference.
Israel obviously isn't worried about humanitarianism (the Human Rights Organization has charged Israel with hundreds of counts of Crimes against Humanity repeatedly), and it's obvious they don't care if this thing kills a hundred children so long as they get the terrorist school teacher – they've made that obvious before.
The problem is, this kind of thing is only going to get more common as technology advances. While most of the human race has enough wits left about them to not release something like this in such scenarios, the Israeli Defense Dept. has already verified that after initial field tests, this will be used by the IDF Infantry forces.
A killing robot, a civillian-interspersed population, and a government that doesn't care for consequences and has no one to be afraid of… Yep, we're scared alright for the future of human civilization.