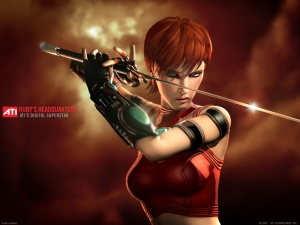 From the day I built my PC a few years ago until just last week, it's been impossible for me to play a game (pretty much *any* full-screen DirectX/OpenGL game) without the ATi drivers crashing. (For reference, stock ATi HD3870 on an ASUS RoG Maximus Formula II motherboard). I've tracked down each and every possible lead, and solved a number of crash-inducing issues in the process, but haven't been able to completely prevent the display driver crashes from the days Vista or now on Windows 7.
There were issues pertaining to dual-displays in a mixed VGA/DVI environment (one display DVI, the second VGA) which were never resolved by ATi (to the best of my knowledge) and were worked around by initially downgrading the DVI to a VGA connection and later replacing the older monitor with a new DVI-based display. There were issues related to the refresh rate. There were issues related to the resolution. There were issues related to the games. There were issues related to the OS. Basically, wherever you look, there were problems caused by poor development practices and crappy QA all around.
There were issues that Microsoft/Windows' new WDM model caught, triggering a restart of the graphics subsystem without causing a BSoD. And there were (unfortunately the majority) of the ATi display driver crashes that caused BSoDs left, right, and center.
Today, my Windows 7 PC surprised me with an interesting question:

ATI display driver has stopped working properly. [big surprise!]

At this time we don't know the exact cause of this problem [again, no surprises here!]. Hewlett-Packard [!!!] is interested in gathering additional feedback. Please visit the Hewlett-Packard website to provide information about the problem.
Pin-drop silence. Remember, this PC is homebuilt. HP has nothing to do with it. If it said "report to ATi," or "report to AMD," or "report to Microsoft," I'd understand. But HP?
And it wasn't a mistake. Following the link presented takes me to this HP page. And the first question? Did this crash occur on an HP PC?
So it's not a mistake on Microsoft's behalf — HP is making a real effort to track down a bug caused by ATi drivers running ATi hardware. Wow.
All I know are two things:
Having been in contact with ATi over these problems for several years, I'm glad someone else is looking into it now.
I'm not getting another ATi/AMD graphics card ever again!