iMessage fragmentation across devices has been a common complaint ever since iMessage was first released, and although Apple has taken steps to mitigate the issue, it hasn't yet been truly solved. The problem was exacerbated with the release of Mountain Lion which brought iMessage to the desktop (or to the laptop, depending on what you use), where users of OS X would be allowed to join in the iMessaging fun – but with a very important caveat: the iChat (now rechristened "Messages")  messaging software would only register with the iMessage email account, so iMessages sent to your phone number would not be received.
This meant that users would have to explicitly take care to send and receive messages from their iMessage-enabled email addresses; but while you can always select where and how you initiate conversations, you can't very well choose how and where perfectly random strangers will choose to contact you. This limitation also applied to the iPad, however iOS 6 beta seeds included a fix for that, adding the option to initiate and receive messages from the phone number associated with your iMessage account.
It pleases us to inform you that with Mountain Lion 10.8.2 (as of the latest developer seed, 12C50) this feature has been extended to Messages on OS X, and in the future, your iMessages will be synchronized across all platforms. Here is a screenshot of how your iMessage account looks in iMessage on 10.8.2: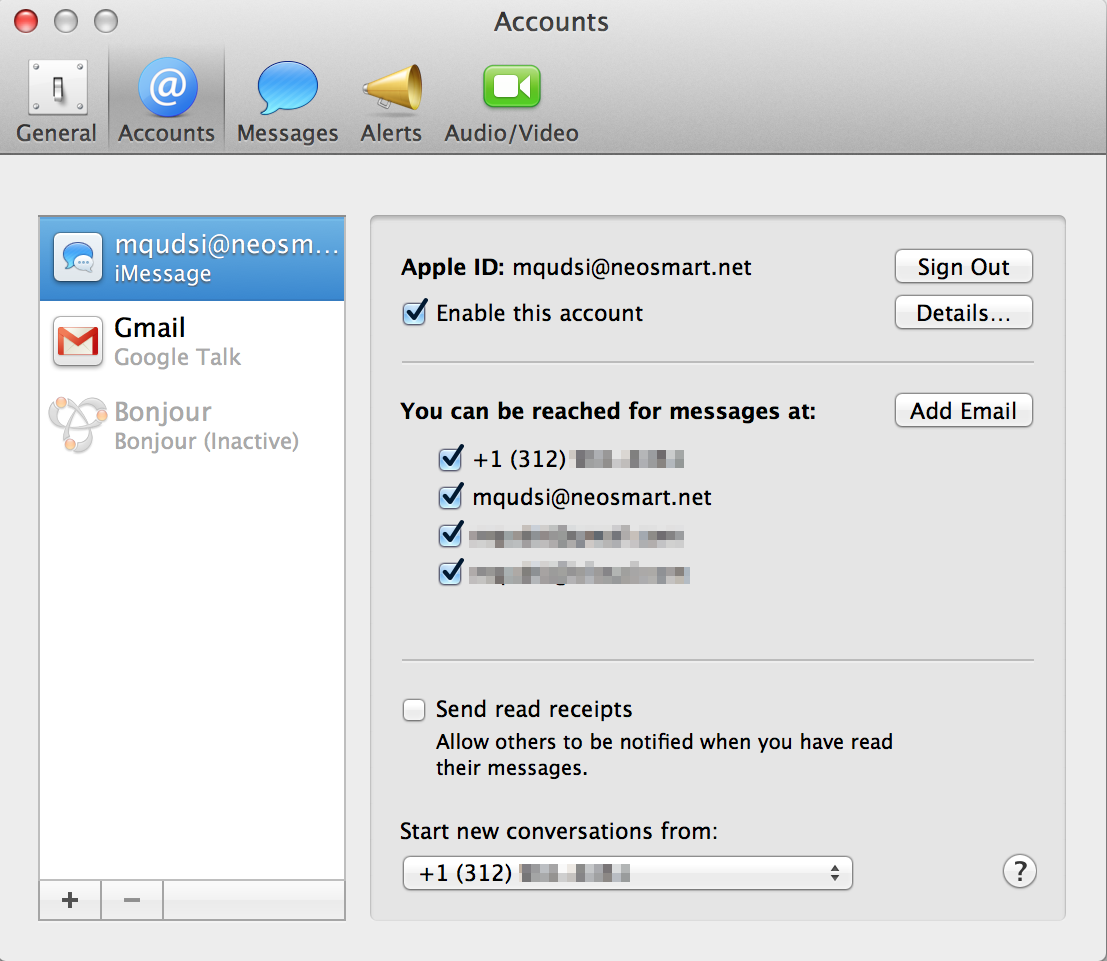 Honestly, there's no good reason that this was not implemented from the start. In all events, any messages sent from any iDevice go to Apple's servers where translation from destination number/email to recipient's Apple ID is performed. Adding phone number ID support on iPad and OS X requires no number verification as that has already been done on the iPhone. In fact, the naïve solution would automatically result in everything working synchronously and with unified messaging across all platforms. Oh well – all is well that ends well, I suppose.
The first time you run Messages on 10.8.2 (assuming you've already added your iMessage account previously), you'll be prompted to accept the automated addition/import of your phone number into your account – you don't have to do anything manually. Apple's pulled it from their servers (told you they could!) and you just have to click next. The Messages accounts dialog will pop up and you'll be asked to confirm your Apple ID password, and then you're all set.
Note that your account will be reconfigured to both initiate new conversations from your phone number and to identify outgoing messages as coming from your phone number, regardless of your previous setting (you'll be asked to confirm this change). With the unified messaging, this is now the most sane option (unless you wish to hide your phone number from people you're iMessaging), and we recommend you keep it.
Happy iMessaging!
Follow NeoSmart Technologies on twitter @neosmart or follow the author @mqudsi!