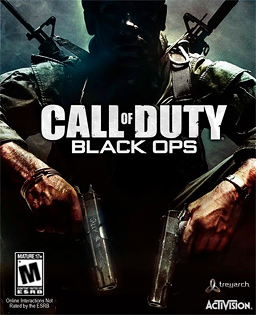 Treyarch released last month Call of Duty: Black Ops, the latest in the much-hyped "Call of Duty" game lineup. Black Ops made headlines when, within 24 hours of going on sale, it managed to sell some 7 million copies in the US and the UK. However, all is not well in the land of Call of Duty, while this game has received rave reviews from a number of gaming sites, including Game Spot and Metacritic. But reviewers at Amazon seem to get it right, with a thus-far average rating of only 1.8/5 stars. The reasons? Many.
I've personally been a fan of the Call of Duty series for quite some time, as the games tend to be well-developed and well-written on both the technical and storyline aspects. But Black Ops falls far, far short of the mark and in many ways is a step back from what we've come to expect of its predecessors. On many different fronts, Black Ops fails to deliver — consistently failing to impress and, perhaps most disturbingly, almost as if it was intentionally made this way.
Problems with the Plot and Design
The very first question you find yourself asking when you start playing Black Ops is "What the hell is going on?" While this works well for many other games where you learn as you go along, and the thrill is in discovering the game and its universe, this is not the case with Black Ops. Instead, a number of factors collude to make it near impossible to actually feel like you are in the game, constantly being reminded that you're playing a PC game, reminded of the device(s) between you and the storyline, and the limitations of the hardware you're using to play the role of the gung-ho warrior on his journeys.
To start with, the audio quality during all the cut-scenes is, for lack of a better word, crap. While your character is strapped down to a chair, a distant and unclear voice begins interrogating. Unfortunately, Treyarch thought it would be nice to add severe static and garble effects to the interrogators voice. The words are unclear, the ideas are lost, and the general effect is nothing short of confusion and active bewilderment. Most ridiculously of all, no one at Treyarch bothered to add subtitles — something so basic, simple, and effective that you have to wonder whose bright idea it was to not put them, and what where they thinking at the time. Sure, it's a neat effect to make the interrogator all the more mysterious… but if it means the player will end up frustrated and angry at the game, well, let's just say that's not a good idea.
Black Ops is, by design, disjointed. It's based around the flashbacks of the main character as he recalls past missions and adventures across the world. Unfortunately, Treyarch could not and did not pull this off with the same finesse that others *cough* Ubisoft *cough* have in the past. Mission transitions are abrupt and sudden, the gamer is not given a chance to be sufficiently immersed in the gameplay and storyline before being roughly and crudely jerked out of the flashback, back to the garbled voice, dimly-lit scenes, and confusing activities. Disjointed isn't necessarily bad; assuming it's done right, it can probably make for an interesting game. But "done right" and "Black Ops" do not go too well together in a sentence, and the disjointed plot winds up leaving the game with an unfinished, amateurish feel instead.
Aaaand now to discuss the actual gameplay and missions. You'd think that, with the Call of Duty series' impressive performances and showings in the past, the actual gameplay might paint a prettier scene. But, of course, you would be quite wrong. It could not be more obvious that Black Ops is just an attempt to milk the Call of Duty cash cow for all its worth, without even the slightest attempts to hide it under the guise of an interesting story or well-designed missions/levels. While previous CoD offerings were enjoyable and interesting to play with spacious and well-made maps, Black Ops is nothing of that sort:
Imagine a long, dark corridor. Good guys on one end, bad guys on the other. Along the corridor are desks/junk/debrise/cover arranged in a pattern – first one on the right, and a few feet down, another on the left. Got that picture in your head? That's pretty much every level of CoD Black Ops right there. Extremely redundant. Very boring. And very badly designed. Your job is to simply start off at one end of the long, rectangular map and make your way to the other side. Every few feet there's something you can use to take cover, and you just need to clear the way through.
Perhaps most insultingly of all though is the game's AI engine, which feels like something out of the 90s. I'm used to playing all FPS games on the "Legendary" setting. The good ones truly evolve into something interesting, difficult, and intellectually challenging where you need to use strategy and reflexes to best a quicker, smarter, more powerful, and more resilient enemy; all the while balancing your own set of handicaps to speed, accuracy, and health regeneration. On the other hand, Black Ops feels like a cheat – the already badly designed maps and checkpoints (a checkpoint at the end of every corridor) become even more blindingly obvious, as the games incredibly dumb AI kicks in…
Unlike most FPS games, Black Ops does not have a finite number of "baddies" whose asses need kicking. Instead, so long as you are barricaded behind any particular cover along the corridor in any of the levels, the bad guys will keep coming. Sort of like "Space Invaders," if you get the drift. It doesn't matter how many of them you shoot, so long as you don't cover more ground and push forward, the enemy will keep coming. The fact that your teammates are useless aside, the game quickly gets incredibly tedious and boring as you realize that no thought went into to the design of the levels. Play it on the hardest difficulty and try to use strategy — you'll realize the futility of it all soon enough. If you want to play by strategy instead of luck and are prepared to take your time advancing in order to do the job right, think again. Black Ops does not give you this option, forcing you to push forward in order to end the level. You cannot, I repeat, you cannot use strategy to kill the enemy from afar, because unless you push forward, the enemy will keep re-spawning right where you killed them.
Technical Issues
As if CoD Black Ops was not already a world of hurt due to the painfully stupid gameplay problems described above, the game is also plagued with a number of technical issues that make it impossible to even pretend to enjoy it:
No multitasking support. If you get bored of the silly levels and badly designed gameplay and want to alt-tab to your web browser or music player, the game will hang, HANG, HANG when you go back. Apparently someone at Treyarch forgot that the PC version means there will be other programs running in the background, unlike on an XBOX or PS3.
(Comparatively) bad graphics. It's 2011 and we've come to expect more than what Black Ops is giving. The graphics on Black Ops are not noticeably better than what we had back in '07, except that for some reason you get worse frame rates for equal graphics. Other games over the past 3 years have shown much better rendering and performance – I guess the recycling of the CoD engine over all these years without any real improvements is at last showing.
No support for DVORAK. Even the simplest and silliest of full-screen games recognize and support the DVORAK keymap these days, but again, looks like Treyarch forgot that the PC is not an XBOX.
Terribly designed and misthought-out UI for the main software. The initial menus were designed to be "cute" in that they appear from a first-person POV: you "look" at what you want and "click" to choose. Except Treyarch completely blew this one, even disregarding the fact that it's hard to use and unintuitive, Treyarch gets a complete "fail" here when selecting certain menu options takes you back to a normal (read: sane) menu; flipping between menu entries requires you to repeatedly switch between FPS and normal mouse modes. Quite stupid, really.
All things considered, this game is definitely one of the worst that I have played in recent memory. Perhaps the fact that it was so heavily hyped beforehand is to blame, maybe if it came from an indie developer I'd have been more accepting of its shortcomings. But for a sequel to such an excellent series, one had higher expectations than what was delivered.
Final score: 4/10