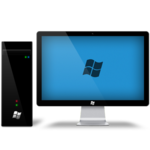 Good news! With Windows 10, we finally see the return of the "in-place upgrade," more commonly known as the ability to repair install!
Windows XP was the last version of Windows that had a true "repair install" option, allowing users to fix a non-working system by simply booting from their Windows XP setup CD and simply pressing 'r' when prompted to begin an in-place upgrade/reinstall of Windows XP that would replace damaged or missing system files, fix system misconfigurations, reset drivers, and more while retaining users' files, applications, and settings.
But with Windows Vista, Microsoft completely restructured the way Windows setup worked to bring about faster deployments and to unify their many deployment options with the introduction of WIM, the Windows Imaging Format, which basically stored a basic Windows image as an archive on the DVD, ready for extraction to the local disk from where it bootstrapped itself, configuring devices and drivers. The only problem was that WIM-based setup did not lend itself to the replacement/patching of individual system files, and rather than coming up with a workaround, Microsoft did away entirely with the entire concept of in-place upgrades and repair installs, leaving users with damaged, non-booting, or mis-configured Windows Vista, Windows 7, and Windows 8 operating systems on their own.
Some expected later versions of Windows to feature improvements to WIM and provide repair install or reinstall options with Windows 7 and later with Windows 8, but that never happened. However, we're super excited to share that after experimentation and testing, we can now share the good news: Windows 10 brings back the ability to perform a repair install!
The only caveat is that unlike with Windows XP, you must be able to boot into Windows 10 before you can start the reinstall procedure – i.e. if your PC is too damaged to boot up and log in, you can't just boot from the Windows 10 DVD or USB and start a repair install. On the other hand, from our testing, it seems that reinstalling Windows 10 plays much nicer with installed software than a Windows XP in-place upgrade ever did – it doesn't break MSI packages (like Microsoft Office) and manages to more-cleanly separate between user and system files and registry keys; replacing/refreshing only what it needs to in order to get Windows up and running again with minimal impact on everything else.
If you need to repair install but can't boot into Windows, you'll first need to fix your boot and repair any startup issues, perhaps with a tool like our own, free Windows 10 recovery CDs, allowing you get back into Windows from where you can start the repair install.
How-To: Repair Install Windows 10