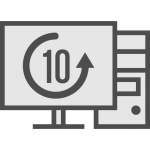 Have you suddenly found yourself with an unwanted, un-needed, or unasked for copy of Windows 10? Friends or family complaining of an unexpected update to an operating system they don't know how to use – and can't figure out how to (safely) get rid of?
Our Windows 10 uninstallation utility lets you or anyone you know quickly and easily revert back to Windows 7 or Windows 8… painlessly. While millions of PCs around the globe are suddenly being updated to Windows 10 without the express notice and consent of their unwitting owners, the bigger problem is the ones that fall between the cracks: an automated update gone wrong, left with a PC that won't start, and no longer works.
We are happy to introduce the immediate availability of our Windows 10 Rollback Utility, a free tool designed to make switching back to Windows 7 (or Windows 8) as easy as a small download and a few clicks. What's more, it'll even protect your PC from automatically updating to Windows 10 in the future, too. (Unless you ask it to, of course.)
The Windows 10 Rollback Utility is based off of Easy Recovery Essentials for Windows, our powerful suite of automated PC diagnostic and repair software. Once you've downloaded the repair utility on a PC – any PC, not necessarily the one that's not working – all you have to do is copy it to a USB, CD, or DVD and start up your PC that you want to roll back to Windows 7 or Windows 10. Click on the video below to see just how easy it really is:
Extended instructions are available on the download page, and support is available in our friendly community forums. The Windows 10 Uninstall Utility supports all PCs, laptops, netbooks, and tablets that can boot from an external device and we have clear, simple, and easy-to-follow instructions and tutorials on every step of the process.
We've worked hard to make this Windows 7 and Windows 8 restore tool as user-friendly as possible – hopefully good enough so that you can send virtually anyone you know that's suffering from an unwanted or failed Windows 10 upgrade our way and we'll help them set their PC straight.
Let us know in the comments below or in the forums how your Windows 10 rollback experience went – we always want to hear from our users. Suggestions, constructive criticism, and complements are always welcome. Please note that support questions in the comments below will not be answered – all technical support questions regarding the NeoSmart Windows 10 Rollback Utility must be directed to our user support forums.
Download: Windows 10 Rollback Utility
For more easy recovery awesomeness, have a look at EasyRE® for Windows®, our complete, award-winning, all-in-one Windows recovery solution that provides Windows rollback and much more in the same, easy-to-use, single-click manner as this rollback utility.
NeoSmart Technologies takes extreme pride in solving real problems for real people. For the latest updates, free software, great advice, and more, subscribe to email updates in the sidebar on the right and follow us on facebook or twitter.