Easy Window Switcher, our Windows "power toy" that brings macOS-like switching between open windows of the same application with Alt+` to Microsoft Windows, has just been updated to version 1.3.0. This new release brings some much requested fixes for keyboard layouts used by our friends in Denmark and Sweden and some more compatibility fixes for everyone else.
There's not too much more to say about this release, as everything Easy Window Switcher does continues to take place entirely behind the scenes, since it is designed to unobtrusively power up your context switching capabilities without ever getting in the way. (Existing WinCycle users just need to run the download and they'll be prompted to update to the latest version.)
Remember that the Alt+` is really only the shortcut for switching between windows for users of US Standard keyboard layouts. All of our international users will use the same physical key placement, but will hit Alt and a different button – whatever button is the immediately left of the 1 key on your keyboard: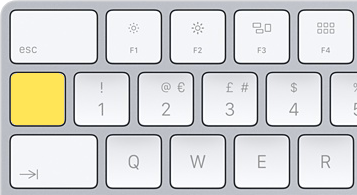 If you're a new or long-time Easy Window Switcher user, please consider making a donation to support future development of Easy Window Switcher and our other free software!