If the Mozilla has one cross-browser innovation fully licensed and acknowledged across the world, it's their feed icon. The now infamous feed icon even has websites dedicated to it, and has successfully been adopted by Internet Explorer 7, Opera, and the much of the rest of the browser herd.
But is it about to change? Just today, the Mozilla Foundation released (on it's official wiki) concept art for the new Firefox 2.0 theme, and something caught our eye. Is it possible that along with the new UI for tabs, buttons, and boxes, Firefox will ship with a brand-spanking-new RSS icon? It sure seems that way!
The standard icon isn't necessarily the best or most aesthetically pleasing design (it's not), but it is a standard by choice of the people and the developers – and as such it's there for a reason.
The original Mozilla feed icon:

The 'new' design:

It's not a mistake. Just two lines below it, the Mozilla team posts art generated with the real icon: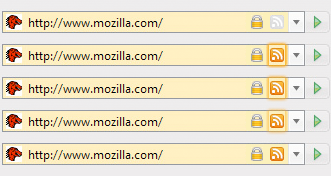 Whether or not the 'new' feed icon is actually any good is definitely up for debate, but that's not the question. The icon has become a standard, the (more or less) official symbol for feeds and syndication – and after the hard work and effort the Mozilla Foundation put into publicizing the icon and convincing other teams to pick it up, this is quite a surprise.