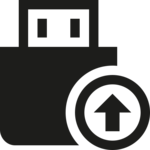 Easy USB Creator 2.1 has been released and is available for immediate download, complete with support for Windows 10, improved support for creating more-reliable bootable USB sticks than ever before, and more.
Easy USB Creator is NeoSmart Technologies' standalone utility for converting ISO images to external drives, USB sticks, and USB thumbdrives. With Easy USB Creator, the process of using a USB drive to boot into an ISO image on PCs without a CD or DVD drive is easier than ever, with its intelligent single-click conversion process that can elegantly handle most Windows ISOs you can throw at it.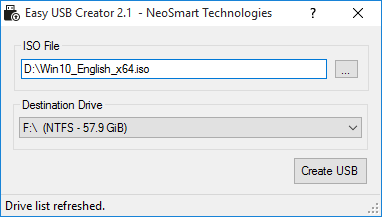 Easy USB Creator is 100% compatible with EFI and MBR PCs, so newer Windows 8.1 and Windows 10 laptops and PCs with GPT/EFI configuration should pose no problem to users of Easy USB Creator.
In addition to enhanced Windows 10 support, Easy USB Creator 2.1 also brings a few more features to the table:
Side-by-side (single-executable) support for both .NET 2.0-3.5 and 4.0-4.6
Support for MD5SUM.txt for validating the integrity of provided ISO images
Better handling of non-formatted USB sticks that previously contained one or more boot files.
Unlike many other USB boot solutions, Easy USB Creator does not destroy any of the existing data or files on a USB drive in the process of making it bootable (though files may be overwritten if they conflict and users are always requested to make a full backup of all valuable documents and files on the drive before use).
As usual, licensed customers can download this free upgrade from their account for access to the full range of ISOs, including Windows setup CDs and DVDs, supported by Easy USB Creator. The non-commercial edition with support for various recovery tools can be downloaded free of charge from the link below.