Please welcome the newest member of our Easy suite of system utilities: Easy USB Creator!
Joining the ranks of EasyBCD and Easy Recovery Essentials is our newest utility, designed to convert ISO files intended for burning to a CD or DVD into bootable USB sticks, USB flash drives, USB jump drives, or external USB drives with just a single click. Easy USB Creator has been designed to be as straight-forward and easy to use as possible, and has been tested for maximum compatibility with all PCs in various configurations.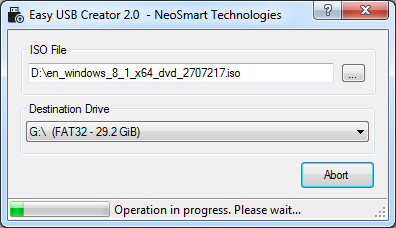 Upon selecting the ISO file you wish to convert to a USB, Easy USB Creator will automatically detect the type of the ISO or IMG file that you are trying to convert, and will take the necessary actions using a heuristic that will try to ensure maximum compatibility with your PC, as well as attempt to make any necessary adaptations to the contents of the ISO file as needed to make it work as a bootable USB.
[purchase]
Easy USB Creator will run on all versions of Windows and will convert ISO images for all versions of the Windows setup DVDs/CDs and various recovery and repair utilities into bootable USB sticks, with full support for USB 2.0 and 3.0, and supporting MBR and GPT/EFI configurations. As a standalone utility, it's easy to take with you and use it where and when you need it.
The free Easy USB Creator Lite Edition will only convert a subset of the recovery utilities into bootable USB sticks, the full version of Easy USB Creator can convert dozens of ISO images to bootable USBs for more convenient access, use in computers or netbooks that do not have a CD/DVD drive, faster setup of Windows, and more. In the near future, support will be expanded to include various Linux distributions and more.
System Requirements:
PC running Windows XP/Vista/7/8/10 or Server 2003/2008/2012
.NET Framework 2.0 or higher
Take it out for a spin, and let us know what you think in the comments below!