Important! Upgrade immediately and read the docs to make it work!!!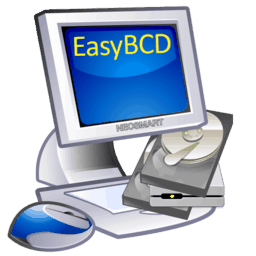 We've done it! NeoSmart Technologies has built a better mousetrap, and it's a beauty. EasyBCD 1.5 is the first and only application to allow users of Microsoft's new OS complete compatibility with any other OS they might be using! It doesn't make a difference if it's Mac OS X or Linux, BSD or Unix; EasyBCD 1.5 means you can boot into it! For too long have Vista's beta testers been locked-in to Windows simply because nothing else can be easily booted into, but not anymore!
Windows Vista's new bootmanager is a double-edged sword. It's one of the most powerful booting scripts in existence, and a far cry from the very limiting boot.ini of legacy Windows operating systems. But at the same time, Microsoft shows its disregard for other simultaneously installed operating systems. It overwrites the MBR without a second thought, and doesn't provide any means for users of alternate operating systems and boot managers to use their old system. That's where EasyBCD 1.5 comes in!
You can't get much simpler than this. With our new release of EasyBCD 1.5, booting into Linux, Mac OS X, or BSD straight from the Vista bootloader without ever having to add a single line of code reconfigure a thing is but a touch away! The new Add/Remove operating system section has been completely redone, making it easier to boot into legacy operating systems and adding the long-awaited support for adding non-Microsoft operating systems: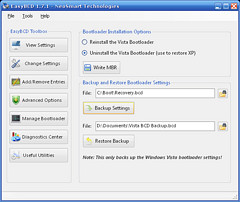 You don't have to configure a single thing! Once you specify a name for the entry and choose the platform + booting method (for Linux), you're all set! If you can boot into Vista, you can boot into Linux or Mac OS X! No more re-configuring GRUB or Lilo, it just works – from the very first time. So long as at some point in time before installing Vista your operating system used to boot OK it will now, nothing to it.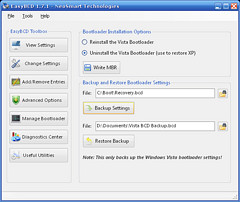 Besides multi-OS support, EasyBCD sports a changelog a mile-and-a-half long. Some of the major changes include fully UAC/UAP compatibility, multi-threaded, longer-timeout update checks, and a very handy "Automated MBR Backup" section (still a work-in-progress). EasyBCD is now capable of backing up the entire MBR – not just the BCD settings; meaning you can preserve whatever working configuration you have now byte-for-byte:
As always, EasyBCD is free. We hope you enjoy it, and our excellent technical support team will be more than happy to help you with any issues you might have with EasyBCD and/or configuring your multi-boot system. (And donations are freely accepted for this non-profit program!!)
Product Link: EasyBCD 1.5 Download Page
Documentation: EasyBCD Documentation
Screenshots: EasyBCD 1.5 Screens
Download: EasyBCD 1.5 Setup